All text and photos on this site, unless specified otherwise, are
© 2010, SouthernBackpacking.com









Tucked away in West Central Arkansasí Ouachita National Forest is the Eagle Rock Loop trail. This nearly 27 mile trail is one of Arkansasí premier hiking destinations. The trail is accessible from five separate parking areas scattered along the trail making this a trail that is friendly to day hikers as well as to backpackers. The abundance of trail heads also allows a group to stage vehicles along the way should a member of the party need to leave early for any reason. Wild life and foliage is abundant on this trail as well as mountains and water crossings.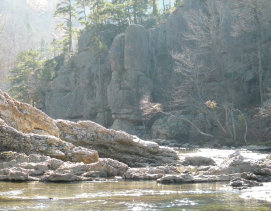 The Eagle Rock Loop consists of three separate trails that intersect one another at various points allowing a loop to be hiked. The trails that make up the Eagle Rock Loop (ERL) are: The Little Missouri River Trail, the Viles Branch Trail and the Athens-Big Fork trail. The trail is fairly well marked with white blazes. It is very well maintained by a network of volunteers. Water is plentiful over much of the loop in the many streams and rivers, but please treat any water before using it. A general description of each trail will be given here to give a good idea of what to expect from each section of the trail.
The Little Missouri Trail is a moderate to difficult trail that generally follows the Little Missouri River. It is the longest trail of the three that make up the loop. There are 2 small mountains that must be ascended and descended along this trail and a cascading waterfall called the Little Missouri Falls as well as numerous water crossings. At least 2 of these crossings will require a change of shoes as the water will be at least knee deep when the levels are very low. When the levels are high these crossings can be challenging with swift currents, deep water and slippery rock bottoms. Remember to follow safe river crossing practices when making these crossings. And always check water levels before going to have an idea as to what to expect.