Adventure in the Deep South
Richardson Creek Trail, page 4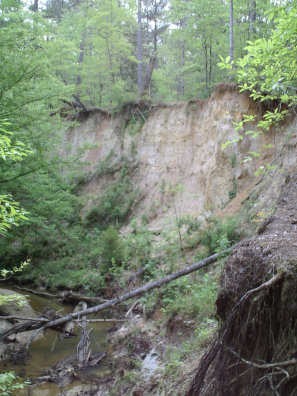 Just a few yards from here you meet the juction of the Richardson/Tallys Creek Trails. Take the left side of the T. This is the direction back to the trail head.
You will be greeted with some uphill hiking pretty much for aobut 1 1/2 miles, as well a some great hill and valley scenery in this section.

You will soon abruptly come out on the main road into the Clear Springs Recreation Area (Clear Springs Road). Turn right here, take a quick road hike and arrive back at the trail head. If you take the trail across from where you enter Clear Springs Road you will resume hiking the Tallys Creek Trail. You can access the trail head from this trail, but you must be careful to take the correct turn back to the trail head. The entire hiking distance of this route is just under 10 miles.


You can contact the Homochitto NF at 601-384-5876. You can ask to have the trail maps mailed you, and you can purchase a FS map of the forest for $9. The Forest Service site has a trail map that shows the trails better you can download from their website.
All text and photos on this site, unless specified otherwise, are
© 2010, SouthernBackpacking.com