All text and photos on this site, unless specified otherwise, are
© 2010, SouthernBackpacking.com

Kitsatchie NF, LA
Kisatchie National Forest is truly a gem in the
setting of Louisiana. So often we think of only alligators and swamps when Louisiana comes to mind, but as Kisatchie NF shows, there is much more to the state than that.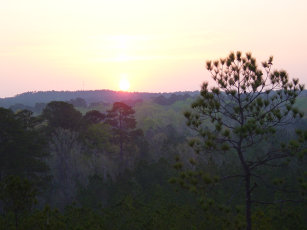 Sunrise on the Bluff, Backbone Trail
Kisatchie sports limstone outcroppings, a beautiful
waterfall, and views that would make one think
Louisiana actually had mountains. Wildlife including Louisiana black bear also make this an area worth experiencing. And of all the trails in this forest, my favorite is the 7.5 mile Backbone Trail.
There are 2 trail heads with which you can access the Backbone Trail. I will be giving instructions for hiking the trail from FS Road 339 to the Longleaf Trail Scenic Byway. You get to the trail head at FS 339 by exiting I-49 at the Derry exit (119) and take Hwy 119 South for 5.1 miles to the Longleaf Trail Scenic Byway. Turn right on the Byway and travel 7 miles to FS 339 on your right. Turn right and the trail is the first turn off on your right (about 200 yards).
This trail, like most in Louisiana, is a pretty easy trail to hike. But it is, unlike many Louisiana trails, a dry trail. You will not cross water for the first 4 miles of the trail, so bring plenty with you. You can link this trail with the Caroline Doorman Trail at the Longleaf Trail Scenic Byway for an 18 mile overall hike ending at Kisatchie Bayou Recreation Area. Any water along the trail must be filtered before drinking.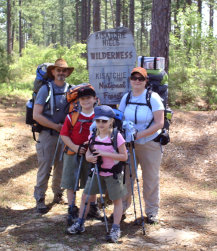 Continue
The trail starts as a narrow sandy trail through tall pines. It continues for about 3/4 of a mile until you come to a trail that goes off to the left. It you pay attention to the trees on either side of you, you will notice that every so often a pine tree has a section of bark
(roughly square) removed at about head level. This is how the trail is marked at this time (April, 2009). Later down the trail you will see some pines with orange paint marking them, but the orange paint can be hard to see on the pine bark. When you get to the trail to the
left, it would appear that the Backbone Trail goes straight and that this is a side trail, but the left turn is the Backbone. The straight trail will take you to a small creek, across it and then aburtly end.