All text and photos on this site, unless specified otherwise, are
© 2010, SouthernBackpacking.com

Page 3
The trail begins a series of uphills over some muddy sections of trail. The views will also start to become obscured by more and more trees. Soon you will come to a junction in the trail. The Backbone will veer to the right and to the left will be the High Ridge Trail. The trails are clearly marked with signs.

In this section of the trail you will begin to see the markings for the trail in orange paint on the trees. Pay close attention as the paint can be hard to see. The trail is easy to follow for the next mile till you come to the top of a large valley. Here to the left are a series of established camp sites. These are my favorite place to camp on the trail as the views are the best in the state. You will climb up a small rise to the first camp site you see, then follow the ridge to get to better camp sites off the trail. Once the trail along the ridge veers left away from the ridge, you will see a trail leading to the right and downward. This leads to the best spot for camping. On a clear morning the sunrise here is priceless. To leave this area in the morning, go back to the trail and look for the spur to the right side of the trail leading downward. It can be tricky to get back on course as it would seem natural to follow the trails in front of the campsites. Look for the orange blazes.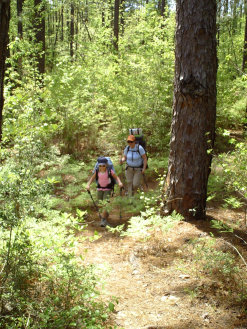 The downhill from the campsites is long but gentle. Soon you will come to a creek that you will have to cross. It is not wide but it is too wide to step across. The walk through the forest is pleasant here and follows along a winding stream. There will be another stream crossing within a mile, but this time it is on a bridge.
A section of rougher uphill terrain follows. It is pretty steep here, and makes a steady rise. At this point in the trail you are almost back to Scenic Byway. You will see several hills that have a mesa type appearance to them as you climb up. Also, several very pretty rock formations dot the land scape here. Soon, you will reach a kiosk with forest information on it. From here it is a hope, skip and a jump to the Longleaf Scenic Byway. Immediately across the road from here is parking area with restroom and the trail head for the Caroline Dorman Trail.

From this spot it is an easy 3 mile road hike back to FS 339 and your vehicle.