All text and photos on this site, unless specified otherwise, are
© 2010, SouthernBackpacking.com









Continue.....
The Viles Branch trail joins (when hiking clockwise) the Athens-Big Fork trail. This is an old mail route between the communities of Athens and Big Fork, hence the name. This is by far the most difficult portion of the trail. There are 5 separate mountains that must be ascended and descended. Every one of them is steep going up and equally steep going down. And the climb begins immediately up from the Viles Branch trail. As well as steep trails, expect more rocky trail tread as well.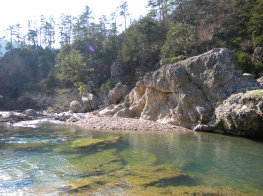 The Athens-Big Fork trail is also the driest part of this loop. This is necessary information for those who are backpacking it. The maps of this area show the reliable sources of water on this trail, but these can be hit and miss in times of drought. Take this into consideration when planning your camping on this portion of the loop. There are some good camp spots on top of some of these mountains, but there is no water at the top of any of these mountains.
There are several side hikes (very short) to vistas along this trail. Each is worth the effort. The Eagle Rock Vista, the Brushy Heap Mountain vista, and the Spirit Rock Vista all are on this trail. These vistas provide spectacular views of the Ouachita mountains, but are particularly impressive in fall when the leaves are changing color. If you plan to camp near a vista, take plenty of water up with you. Also, if you plan to camp at a vista, practice Leave No Trace principles.