Adventure in the Deep South
All text and photos on this site, unless specified otherwise, are
© 2010, SouthernBackpacking.com
Bankhead NF, AL
Waterfalls, caves, beautiful rock formations, box canyons......Sipsey Wilderness has it all. Tucked away near the town of Double Springs in North West Alabama, the Sipsey is the gem of the Bankhead National Forest.

The Sipsey Wilderness has an extensive network of trails. Most of these trails follow along a creek or river. You will have no problem finding water in this wilderness (treat before drinking). And best of all, the hiking is quite moderate in difficulty level; much less strenuous than you would expect with this type of terrain.

The main identifying feature of the wilderness is the Sipsey River. The many creeks in the wilderness all drain to the Sipsey River, so when thunderstorms occur flash floods are possible. On a 3 day expedition into the Wilderness over Memorial Day weekend of 2009, my companions and I watched the river rise over six feet in less than 4 hours. Check the weather before going and plan your trip accordingly. Also, plan on a alternate route for exit if your route involves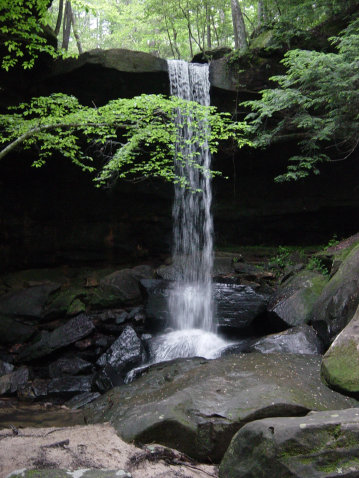 Falls Creek Falls
a water crossing. I have literally seen the Bee Branch creek be inches deep on one day and waist deep when I crossed the next day.

The Sipsey has a vast network of trails which wind through many features of this system of box canyons.
With this in mind I will describe the route which enters Trail 200 at the Recreation area on Forest Service Road 60, joins Trail 209 and exits the wilderness after making a crossing of the Sipsey River and connecting with Trail 201 to exit at the Randolf Trail Head on Forest Service Road 60. This route will require a vehicle parked at each Trail Head. Parking at the Randolf Trail Head is free but there is a $3.00 per day fee for parking at the Recreation Area on FS 60.
From the Recreation Area Trail 200 crosses underneath the FS 60 and heads into the wilderness. You will be following along the Sipsey River here, and are immediatly met by beautiful scenery. Rock formations abound and you are making a gradual decent into what is basically a box canyon (at least these are my observations of the terrain). Soon you will begin to see what will become towering rock walls to either side of you.