Adventure in the Deep South
All text and photos on this site, unless specified otherwise, are
© 2010, SouthernBackpacking.com
You will follow Trail 200 for about 0.4 mile before you come to the first stream crossing. This is the Borden Creek crossing. Borden Creek is about 30' across and typically shallow (ankle deep when I crossed it). Borden Creek Trail branches off to the right before you cross the creek. Stay following the Sipsey River (which will be on your left hand side) to follow this route.

After crossing Borden Creek, you will continue to follow the trail running beside the Sipsey River (now called Trail 209). In roughly 0.75 miles you will come to a small (if the water is not up) stream crossing. This is Fall Creek. If you will venture to your right at this point you will be treated a beautiful waterfall, Falls Creek Falls. This fall is a lovely site. It is small, but very lovely with the sound of falling water loud enough to be heard from the trail , but not so loud as to drown out conversation with your companions.

From here continue up the trail enjoying the scenery for another 0.5 miles. As you go, glance to your left and right. You will see that the canyon walls begin to become visible either side of you. If you are here in the spring, summer or early fall it may be hard to see the cliffs that surround you because of the foliage. However, you will notice that rather sharp rise of terrain to either side.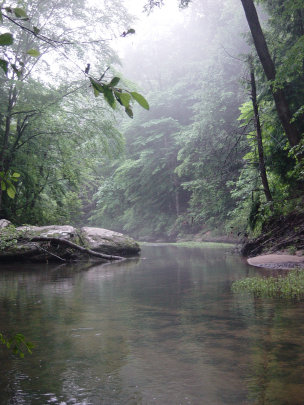 The Sipsey River
After a journey of roughly 0.5 miles, you will come to a large clearing with a large camping area, complete with fire ring and logs placed around the ring for seats. This is the junction of the Cullman Motorway Trail. The Motorway Trail goes off to the right from the clearing. You will want to follow along the Sipsey River on Trail 209.
Continue to follow the river for another 4.8 miles. Along the way you will cross 2 more tributaries to the river, whose depth and width will be determined by the amount of rainfall that is occuring at the time. At the end of the 4.8 miles you will come to the Bee Branch. This is where we made camp at a flat spot just before the Bee Branch. The picture of the river above was made after we set up camp and had gone to filter water.