Adventure in the Deep South
Richardson Creek Trail
Homochitto is one of Mississippi's beautiful forests, and the first National Forest in MS. It is named for the Homochitto River, which is a Choctaw word meaning "Red River". The river in shallow and wide for the most part, although it is believed that it once was narrow and deep.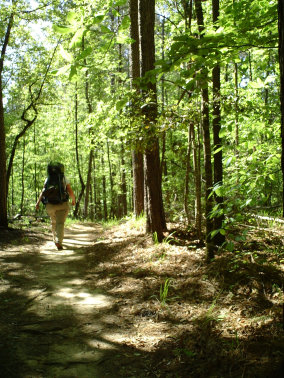 The terrain in the Homochitto NF is typical of MS. Gently rolling hills, ridges and minivalleys. The hiking trails in this forest are moderate in difficulty. There are 4 marked trails in the Clear Springs Recreation area
of the forest. One of these trails is a 1 mile recreation loop around the Clear Springs Lake. The other 3 are loop trails that are accessed from the trail head parking lot in the Clear Springs Recreation Area. These three trails Mills Branch, Richardson Creek and Tallys Creek trails. The trails are over 25 miles of combined hiking surface which loop and overlap each other, allowing one to begin on one trail and at some point join one of the other trails until you have completed them all. Or, you can hike them seperate.
Mills Branch Trail is 4.7 miles, Richardson Creek Trail is 6.9 miles, and Tallys Creek Trail is 11.7 miles. The Clear Springs recreation area also has restrooms
facilties with cold water showers. There is a day use fee of $5 per car, an overnight camp fee of $7 (the $5 fee is good for backcounty).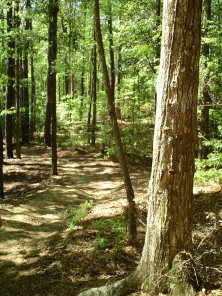 In April of 2009, because of damage from Hurricane Gustav on Labor Day of 2008, Mills Branch and Tallys Creek Trails were still offically closed. So we backpacked the Richardson Creek Trail. Unfortunately, I had not conceived this web site at the time, so I did not bring my GPS unit with me. At this time I will not be able to give a detail of what you will encounter on this trail using proper mileage. I will return to get these details in the future.
One of the first things that strikes you is the beauty of this forest. The under growth in much of it is slight (in some places none exsists at all) and it allows you to see far through the trees. The next thing that strikes you is the hills. You will see minivalleys all around and you will encounter climbs of 70' to 100' up on some of the hills. None of them are very steep, though some are quite taxing. The good thing is the downhill sections are easy on your feet as the slopes are gentle.
All text and photos on this site, unless specified otherwise, are
© 2010, SouthernBackpacking.com