Adventure in the Deep South
Richardson Creek Trail, page 2
From the trail head at Clear Springs Recreation Area all of trails use the same access point. You will hike in a trail that is alternately marked as Mills Branch or Tallys Creek Trails. You must follow Mills Branch for quite some distance (around 2.5 miles) before
you come to the actual begining of Richardson Creek Trail. Likewise, at the end of the trail, you will have to get on Tallys Creek Trail to exit back to the trail head. Richardson Creek Trail is like a jumper between the two trails. Ultimately, although this trail is listed as 6.7 miles, you will hike 10 miles with the Mills Branch and Tallys Creek sections to get to and from the trail head.

The Mills Branch Trail from the trail head reaches a point where it crosses a Forest Service road (124) where it is intersected by another Forest Service road (187 ), effectivily making a T. You go straight on road 187 and are presented with choice of following Mills Branch on the left (currently this option is closed) or continueing up the road for about .25 mile to the spot where Mills Branch recrosses this road and continues toward the Richardson Creek Trail (to the right side of the road).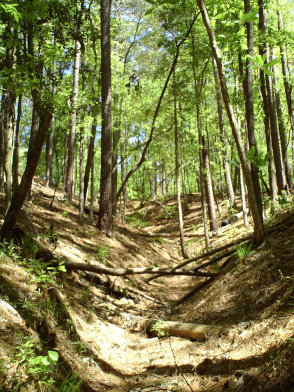 This will cut down on mileage for your trip if you use the road hike. If you prefer more miles, the Mills Branch section will add another 1 mile to this trek, as well as some beautiful forest views.

Once you have made it to the Richardson Creek Trail, you will exit the Mills Branch trail to your right. The Mills Branch Trail is blazed in blue, the Richardson Creek Trail is blazed in red. The Forest Service uses plastic diamonds to blaze the trails and they are pretty frequently placed. On the section of the Mills Branch Trail that leads to the Richardson Creek Trail, you will find blazes for both trails. This is also true on the part that merges with Tallys Creek Trail (Tallys is marked in yellow).

Following the trail here will take you through a mixed forest of mostly pine with some hardwoods thrown in for beauty. Soon you will re-emerge on Forest Service road 124. You will see a bridge to your left that is crossing over Richardson Creek. You can take the bridge and rejoin the trail to your right hand side. One thing that you will find from this point on is that there will be a couple of small stream crossings, all of which have bridges across them. Also there are many "seeps" of water, most of which have concrete grates to keep your feet from making to much trail damage. Be aware that mountain bikes are allowed on all trails in the Clear Springs area, and their tracks can make for some muddy going in the area of seeps.
All text and photos on this site, unless specified otherwise, are
© 2010, SouthernBackpacking.com