Adventure in the Deep South
Richardson Creek Trail, page 3
From this point on the trail for a couple of miles you will parallel FS 124 on your left hand side. If you look up (as you will
be below the ridge line in this section) you will probably realize from the way the trees break that the road is there.
However, let me assure you, there is little traffic on the road and it does not detract from the trail at all. In this area you will find some varied trees and an interesting sloped prairie section. Another distinguishing feature is a rock formation that appears from no where. It is quite pretty, and unusal for this section of MS.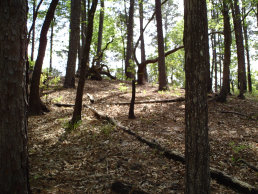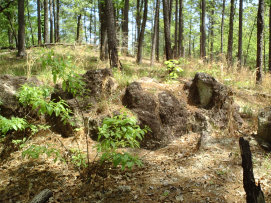 As per the rules of most MS National Forests, camping is allowed anywhere at least 100' from the trail. Once you make the break from paralleling FS 124, you can begin to look for camping spots. Many can be found in this forest, but dont look for any established sites. While day hiking is quite popular here, backpacking is not as frequent, so you will have to find an inconspicous spot to camp in.

A bit after getting away from FS 124, you will cross a dirt road (with no name). At this point you will actually be close to the campgrounds around Clear Springs Lake, but you will not see or even be aware of it. Keep following the trail and soon you will be back beside Richardson Creek again.
You will have by this time been hearing a low, machinary sound in the distance. This is an operating oil rig, one of many in the National Forest. You will hear it for most of the way, but you will soon be getting to where you can see it.

You will cross 2 more roads, and the trail will be obviouly across from you. In this section you will come upon a swamp, a pretty ugly one at that. Continue on and Richardson Creek comes back into view. Soon you will come to a point where the trail seems to go straight, and a branch shoots off to the right across a bridge. This is the juction with Tallys Creek Trail. You can go either way here, as they will join again before going back to the trail head. I would advise taking the Tallys Creek Trail at this point as it will lead to a beautiful canyon type view that goes to a creek below. There is even a waterfall (all be it small but loud) to your left at this red clay cliff area.
All text and photos on this site, unless specified otherwise, are
© 2010, SouthernBackpacking.com