Adventure in the Deep South
The Black Creek Trail,
DeSoto NF, MS
For many years the Black Creek Trail has been MS's premier hiking an backpacking trail. However, it has suffered much since hurricane Katrina. Fewer people than ever now hike the trail, and the 8 miles of trail that goes through the Black Creek Wilderness Area have yet to be reopened by the Forest Service.

The trail is 41 miles in length, much of the time running close to the Black Creek. It meanders through the pine and mixed hardwoods of South Mississippi over terrain that ranges from flat to swampy to hilly. The trail is of moderate difficulty. At the present time, many more people paddle the river than use the trail. In fact, if it is not hunting season, you may not even see another person on the trail. Camping is allowed pretty much anywhere you can find a spot, which unless you use a sandbar by the river can be tricky to find, due to the fact that the FS pushed the trees that fell because of Katrina into large piles along side the trail.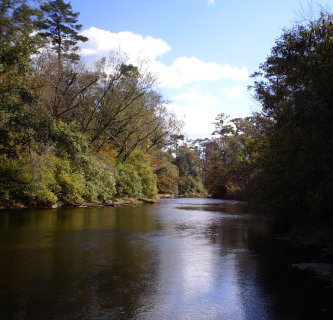 The sheer volume of this debris makes it difficult in many places to find a spot without climbing a mountain of trees. However, with the flaws described the trail is still worth backpacking. It is still a beautiful place to be. One thing that now exsists on the trail in the stark beauty of natures destruction juxtapose on the beauty of a forest that is rebuilding itself.

The Black Creek Trail is named after the Black Creek river that runs very close to much of the trail. It is the only long trail in MS that is designated for hikers only. Water on the trail is not a problem, even when it goes far from the river. There are many streams that run all around this area, and all should be treated before drinking.

At present, I have only backpacked the first 5.1 miles of the trail, from Big Creek Landing (western most end of trail) to Hwy 49. The trail starts at a hard to find trail head that is also a public boat launch into the river. To get to this landing take Hwy 49 to county road 334 (known as the Brooklyn-Carnes road). Go west for .5 mile to county road 335 (known as the Carnes-Rockhill Road). Continue west for 2.5 miles to FS road 335 E, where you will turn North on the gravel road and go about .25 miles to the landing. The trail is to the right close to the river. The GPS coordinates for this landing should be 31*04.252' by 89*15.243'. Be sure to put away anything of value and lock up. Over the years there have been reports of vandalism here; however, I have parked here overnight on many occasions without incident.
All text and photos on this site, unless specified otherwise, are
© 2010, SouthernBackpacking.com