Adventure in the Deep South
The Black Creek Trail,
Page 2
The trail runs paralle to the Black Creek for the first 2.5 miles. The river will be on left side, and for most of that way you will have a view of the river. However, at times you will not be able to see the river, or even realize that it is there, but this is for short distances. You will see obvious side trails that lead to the river. These will usally go a sandbar of varying sizes. The bars make perfect campsite, especially when you are backpacking with children. Falling asleep to the sound of the creek makes for a peaceful nights sleep.

Although camping is allowed (even encouraged) on the sandbars, you should be careful to practice leave no trace principles. Nothing mars the beauty of a nature experience like the obvious signs of human interaction. Please take precautions to make fires that can be hide afterward (a small and cheap bar-b-q grill is light and makes a perfect fire pan). Also, do all bathroom chores away from the river (at least 300').

As mentioned, the area of trail offers an easy hike with ready access to the river. If you are close to the area and are looking to try out backpacking or take a child on there first experience, give this section a thought. It makes for a pleasant experience that will reinforce how fun backpacking can be. Also, in this section there are usually less canoe campers to via for the sandbars. Makes it easier to camp by the creek.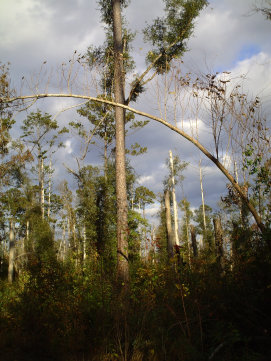 At 2.7 miles you will cross a road, County Road 335, also known as the Brooklyn-Rockhill Road. You have entered a strech of trail that will lead away from the river for several miles. You will cross several small streams in this section, so either carry water from the Black Creek (treat or filtered) or keep your eye open for these streams. They can at times be shallow and unappealing as water sources, but if filtered are drinkable.

After crossing CR 335, you will be on an uphill sloping climb for about 1/8 of a mile then you will cross another road County Road 341. Now you will be walking through mostly pine forests. You will find several uphill and downhill sections and cross several trails obviously used by ATVs. After about 1.5 miles you will come to another road. I am not sure if this is the Brooklyn-Carnes Road or a road not shown on the map, however, it will have a short (.4 mile) well marked road hike.
All text and photos on this site, unless specified otherwise, are
© 2010, SouthernBackpacking.com