All text and photos on this site, unless specified otherwise, are
© 2010, SouthernBackpacking.com









Of the two mountains that will be ascended and descended on this portion of the loop, one is leaving the Albert Pike Recreation Area and the other is not far from there , just before the Winding Stairs. These mountains are each of an elevation near 1000' but offer splendid views. Albert Pike Recreation Area offers parking and has restrooms with showers. At the time of this writing the Recreation Area is closed due to some sever flash floods earlier in the year that resulted in 19 deaths. Once again, this is a wild area with many streams and rivers. Although it is a beautiful place, it can be dangerous. Be aware of weather and river levels.
The Winding Stairs is a particularly beautiful section of this trail. It is a portion of the trail that follows the Little Missouri River winding through breathtaking rock formations, passing caves, and generally giving one a sample of serenity that is found in the backcountry of Arkansas.
The Little Missouri trail (when hiking clockwise) will take one to the Viles Branch trail. The Viles Branch trail is an equestrian/hiking trail. It has many wet sections with stream crossings frequently (although many will not even require a change of shoes because of the abundance of rocks to hop across). A lot of the trail surface in this section is rocky – and it can be quite hard on the soles of the feet as well as on the ankles. Wear good boots and watch your step.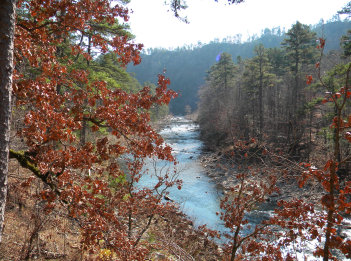 The hiking on the Viles Branch trail is at worst moderate. In fact, it is pretty easy for the majority of this portion of the loop with only the rocky trail surface making it moderate at all. Please remember to move to the side of the trail and wait till horses pass before moving on. Horses have the right of way.